Any sales professional will know how good it feels to close a deal—especially if it's a big coup. After all the efforts from the initial pitch, through negotiations, to the moment of closing, it may feel like the time to celebrate. But you can't count your chickens before they hatch, as you must complete the quote-to-cash process first. 
For many companies, this territory proves tricky to navigate. When your team struggles to manage the vital processes involved, it can seem like the champagne is always on ice, no matter how many deals you close. 
Read on as we walk through the essential steps of the quote-to-cash process so that you can optimize the customer lifecycle. By the end, you'll have everything you need to save time, effort, and money, enabling you to maximize your return on investment (ROI).
What is the Quote-to-cash Process?
The quote-to-cash process, also known as Q2C or QTC, is an end-to-end business system that encompasses all sales operations within the entire customer lifecycle, including contracts, order fulfilment, accounts management, billing, collections, and accounts receivables.
In simpler terms, Q2C is the journey from the moment your customer expresses initial purchase intent until the point you receive revenue.
As an integral aspect of the sales cycle, the quote-to-cash process drives your organization's revenue by streamlining the processes for quoting, contracting, and ordering. These enhancements improve business operations efficiency and facilitate more intelligent decision-making through greater visibility. 
Ultimately, this framework speeds up sales cycles as it helps you close deals faster, and it also provides an enhanced buying experience for your customers.
8 Simple Steps to Optimize Your Quote-to-Cash Process
The quote-to-cash process comprises many functions in the sales pipeline, from the early stages of configuring a quote until the moment your company receives payment.
Having a logical, optimized workflow from start to finish is critical to the success of your sales team. Here are the eight steps you need to maximize the efficacy of your quote-to-cash process: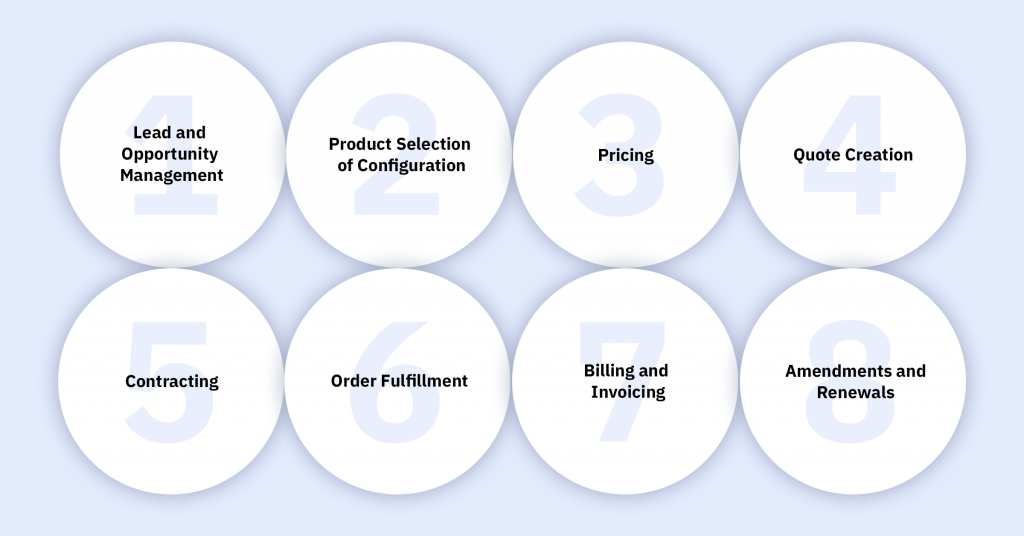 1.

Lead and opportunity management
Traditionally, the first step in the process is product selection or configuration. However, companies can automate a lead-to-cash process if they start earlier in the sales cycle with lead generation and opportunity management. By integrating these two capabilities, you can improve the organization and distribution of new leads to your sales team.
2

.

Product selection or configuration 
In the second step of the quote-to-cash process, sales teams use CPQ (configure, price, quote) tools to identify and configure the correct products and services for their customers. Through automation, CPQ tools accelerate the sales process by helping sales teams configure the most complex products or services quickly.
The best CPQ software often includes user-friendly product configurators, which are easy to maintain. The product configurator tool from SaleSqueze enables customers to design their desired product. This tool not only helps to eliminate errors, but it automatically sends the quote to the customer's inbox minutes after they submit their inquiry.
3.

Pricing
In the third step of the Q2C process, sales teams apply discounts, bundle deals, and promotions to the pricing for all the selected products and services. Your team can base price recommendations on the company's internal price strategy or optimize prices to increase conversion chances.
Quite often, these price strategies account for real-time market changes. For example, if your raw materials cost increases, the customer price may reflect your rising expenses. Sales teams can use CPQ tools to quickly analyse deals and tweak pricing strategies, enabling them to offer the right products at the right price every time.
4.

Quoting
The fourth step in the quote-to-cash process comprises several actions, including:
Applying mass modifications to the quote

Analysing the deal performance

Managing the terms and conditions
At this point, sales teams should use CPQ tools to ensure an error-free quote. Besides that, you must keep the buyer's needs in mind and provide the best solution.
Once you finalize the quote details, you can use quote-to-cash software to generate proposals that include all related attached documents, such as bills of materials or drawings, etc.  
5.

Contracting
After finalizing the quote, you must manage the legal language and scope of the contract. With a contract management integration, it's easier to oversee your sales team as they work on this phase. Management can leverage this feature of a Q2C solution to ensure the sales team complies with all legal obligations while creating and negotiating the final contract. 
6.

Order fulfilment
With the contract wrapped up, you can focus on order management, which involves a few steps: order processing, tracking, and delivery. When you use an integrated quote-to-cash software, your team can stay on top of order management, making any necessary changes, and ensuring customers receive their products promptly.
7.

Billing and invoicing
The penultimate step in the quote-to-cash process is to review the bill and then send the invoice to your customer. The accounts team should assume control of billing timeframes and any discount agreements. By housing everything in the accounts department, it will be easy to quickly reference past invoices and contracts when you want to renew customer contract agreements or scale recurring business.
8.

Amendment and renewals
The last step in the quote-to-cash process focuses on customer retention and managing recurring revenue. Automated Q2C tools can save time here and eliminate errors if your sales team needs to make adjustments to pricing or contract terms.
Furthermore, you can use a Q2C solution like SaleSqueze to streamline the renewal process, giving your sales team access to updated information and analysis tools that make it possible to offer the best deal for both the company and your customers.
How to Make Your Quote-to-Cash Process More Effective
Now that you understand the eight steps of the Q2C process, the next question most people have is this:
How can I make it more effective?
The simple answer is to use a dedicated quote-to-cash software solution. Here are a few ways that a Q2C tool will help you get more of your existing process:
Free your team to focus on selling
As you hand more of the operational tasks over to a quote-to-cash solution, you free up your sales team to do what they do best—sell your products and services! 
SaleSqueze CPQ automates most sales activities, including the quoting process. Instead of being bogged down in quoting minutiae and tedious pricing updates, your sales experts can dedicate more time to nurturing stronger customer relationships through personable emails and direct calls.
Streamline Your QTC Processes
Integrated quote-to-cash software offers a centralized data log, so your sales teams can glean quick insights and managed the myriad of independent actions from a single dashboard.  With this holistic view, it's much easier to manage every prospect's needs. You can minimize errors and improve forecasting, enabling you to offer quicker responses and more accurate information.
SaleSqueze operates with the omnichannel age in mind. We enable teams to integrate our product configurator tool into any browser or device.
Automate the Quote-to-Cash Lifecycle
When you embrace automation, it becomes a lot easier to manage the quote-to-cash process. The technology simplifies complex tasks, making it easier and quicker to deal with quotes, contracts, orders, and product configuration.
Wrap Up
Speed is a crucial element of the quote-to-cash lifecycle. The faster your organization can distribute pricing, fulfil orders, and bill your customers, the sooner you can collect revenue. If you're working with a legacy system that relies on manual processes and older mediums, you might struggle with this process.
Getting the eight essential steps of the quote-to-cash process down is critical to your sales team's performance. Once you have the system in place, you can scale your sales efforts, rolling out a superior buying experience that breeds customer loyalty, shorter sales cycles, and sustainable business growth.
Do you want to learn more about how SaleSqueze can optimize the quote-to-cash process at your company? Schedule a demo meeting with one of our experts.
Book a Demo with one of our

Experts

!
[contact-form-7 404 "Ni najden"]