Imagine you are a large manufacturer in the automobile industry with over 20,000 products in your range, including small parts and accessories for a myriad of different vehicles and models. If you're using a flat catalog, your customer experience is going to suffer—and so will your bottom line. 
92% of customers will completely abandon a company after just two or three negative interactions. When sales teams and customers are discussing product options, there must be an efficient system that makes it quick and intuitive to retrieve precise information. 
Unfortunately, a flat catalog is no longer a viable solution for companies with extensive inventories. People expect faster, smoother service and an easier road to getting what they want. Flat catalogs can't deliver that experience. Thankfully, there is an alternative at hand – product catalog. 
Read on as we explore the differences between a flat catalog and a product catalog, and explain why the latter is the way forward for your business to thrive in the customer-centric age.
What is a Flat Catalog?
A flat catalog is a table that contains basic information about a product or a product category, such as the identification number, product title, and the unit of measurement. In essence, a flat catalog consists of a list of products. 
The problem for many companies is that a flat catalog lacks flexibility, scalability, and business logic. Due to its lack of structure, large catalogs can become difficult for sales teams to manage and navigate. 
A flat catalog is often part of an enterprise resources planning (ERP) platform—the core management system for many large companies.
Unfortunately, a flat catalog does not offer this experience. And that brings us to the solution—product catalogs.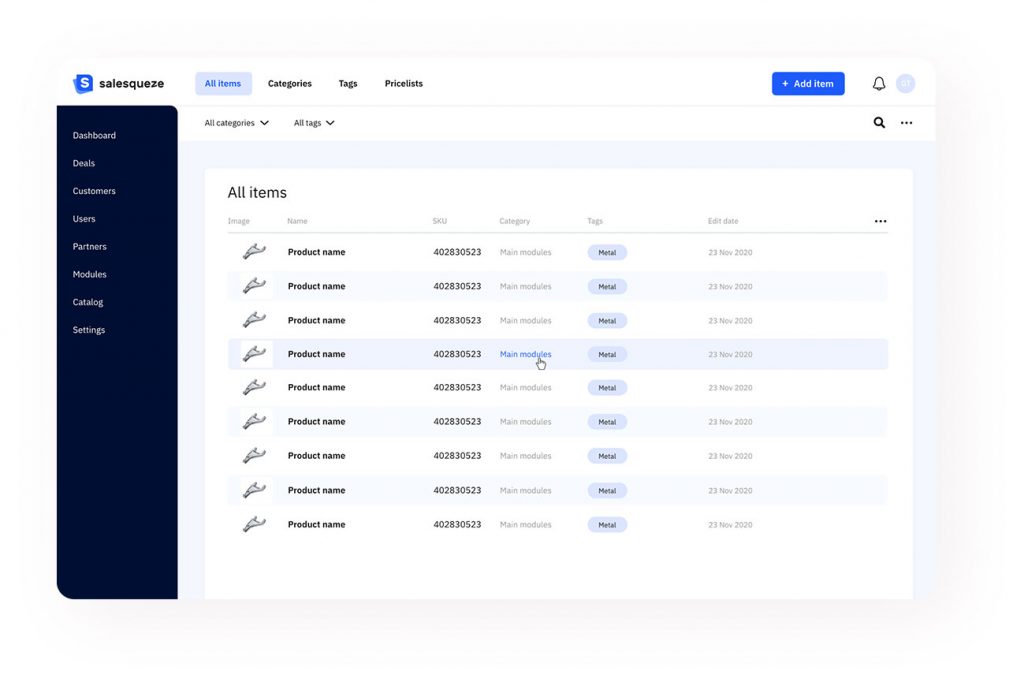 What is a Product Catalog?
A product catalog is a tool that includes all commercial product information required for sales teams and managers to discuss product features, offer supporting information, understand business logic to make relevant offers, and proposed deals or bundles with related products.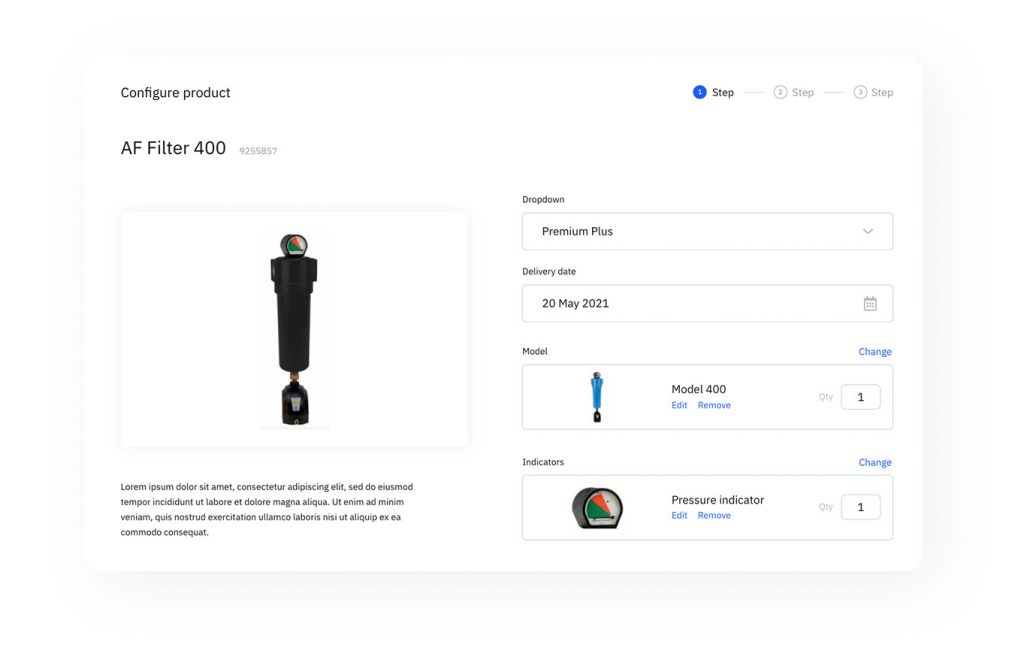 Flat Catalog in ERP vs. Product Catalog in CPQ
Before you can see why a product catalog is the smarter choice, let's compare the contrasting roles to understand just what problems a flat catalog presents for sales teams and customers alike.
Unfortunately, despite all their merits, ERP systems lack the ability to capture business logic. As such, ERP systems, and by extension, flat catalogs, are not optimal support tools for sales teams.
For instance, if your company sells furniture, there could be 10 or 12 different products that make up a complete drawer. A customer is unlikely to know these disparate product numbers. Therefore, they will rely on your sales team to provide the information. However, the nature of a flat catalog means sales professionals will spend some time retrieving each individual part and answering any questions customers might have along the way.
By comparison, a product catalog excels because a Configure Price Quote (CPQ) software like SaleSqueze has built-in business logic. This design enhances a product catalog, enabling your sales reps to quickly build a bill of materials (BoM) for virtual products and provide supporting information to guide your customers with their purchasing decisions. 
The distinct advantage over a flat catalog is that a product catalog showcases all your products in one organized location. Instead of solely providing parts, a product catalog within a CPQ tool enables any customer to order a drawer with all parts included or specify the exact parts they need if they are assembling it at home. 
With this intuitive, holistic overview within a Configure price quote (CPQ) software, your prospects can access all the information they need to research products and their components and ultimately make quicker, more informed purchasing decisions. 
3 Undeniable Benefits Of Using A Product Catalog For Your CPQ Process
When your company's portfolio expands to contain thousands of products, you can't expect sales reps to memorize everything. But unlike a flat catalog, a product catalog is a scalable solution that grows with your business.
So, as you make a product catalog a fundamental tenet in your CPQ process, you'll find there's a lot to gain. Here are three excellent reasons a product catalog is better for your business than a traditional flat catalog.
1.

Simplifies the Creation of Bill of Materials (BoM)
Product catalogs help sales reps, and customers collaborate to build complex products virtually. The interactive process streamlines the traditional task of compiling a bill of materials, saving everyone a lot of time.
2.

Improves Quote Speed and Accuracy
Anyone can make a mistake, especially when manually sifting through thousands of products with similar ID numbers and names. But just one typo or mistaken part ID can lead to an inaccurate quote. Thankfully, a product catalog eliminates the need for the sales team to work off rote memory so that you can look forward to faster, more accurate quotes.
3.

Enhances the Customer Experience
With a product catalog and built-in business logic from CPQ software, you can gear your sales engine and strategies towards your customers' needs. Whereas a flat catalog is only capable of mastering the list of products, a product catalog puts the customer's journey first, making it easier for people to get what they want.
Why Do Manufacturing B2B Companies Need A Product Catalog?
As competition intensifies in B2B markets, many companies offer a more personalized sales experience—not unlike B2C companies. We must remember that B2B customers are still people, so they still appreciate a seamless, hassle-free, and positive shopping experience. 
By listing essential product details with additional information that helps people informed purchase decisions, your B2B company can show up for customers in a memorable way that improves customer satisfaction. Over time, this approach earns trust and loyalty, helping B2B companies stand out from the pack for their fantastic service and customer experience.
Furthermore, B2B companies struggle with the same internal conflicts as B2C companies when it comes to leaning on a flat catalog to organize large quantities of items online. By streamlining your product catalog process, you'll create a better organized and more resilient internal system. With this foundation, your company will be in a better position to scale operations.
How To Start Listing Items From Flat Catalog In Product Catalog And Assign Business Logic
Let's say your company has a flat catalog system. Business is growing, and so are your product lines. It's time to upgrade to a better system. 
You might worry that switching to a product catalog could be a lot of time and effort, and you might mess up your inventory or entire business in the process. Thankfully, it's not as difficult as you might think. 
Here are four simple steps to move from a flat catalog to a product catalog:
1. Use a flat catalog as a base. By importing the flat catalog from the ERP system, you can use its contents as the foundation to build up your product catalog.
2. Sync details with original flat catalog file. You can refer to the original flat catalog to ensure you are constantly aligned with correct pricing, sizing, and names. 
3. Add structure to the flat catalog. You can create fixed products first and then add configurable products that have more business logic that will support a customer-focused outcome. 
4. Build connections and BoM for various products. For example, if you sell a drawer that comprises 12 parts, you can list its bill of materials and build up the connections between related components.
Wrap up

Many companies that produce raw materials or components don't think in terms of the finished product. Instead, they focus on every single component. 
Customers think in terms of finished products—not the endless components involved in the manufacturing process. But when it comes to ordering custom products, legacy tools like a flat catalog don't offer customers the information they need. Moreover, companies struggle to transfer the knowledge of components and disparate parts to their sales teams. 
Using your flat catalog as a base, you can build structure and devise a product catalog that offers more valuable insights for your sales teams and customers. In the end, this approach increases sales team productivity, customer satisfaction, and, best of all, your sales revenue.