Configure price quote (CPQ) software is a valuable sales tool, especially when your product range grows. When your portfolio expands to thousands of products, it's impossible for sales reps to memorize everything they need to inform customers and close deals. Luckily, the best CPQ software includes a product catalog function.
A CPQ tool has built-in business logic, which enhances a product catalog, enabling sales reps to quickly build a bill of materials (BoM) for virtual products and provide supporting information to guide customer purchasing decisions. 
This article will discuss how a product catalog can help you speed up your sales cycles and bring clarity to your product portfolio for both your employees and customers.
Let's get started.
The Problems of Not Having a Product Catalog
Expert product knowledge is vital for many people in your company, especially your salespeople. However, many companies rely too heavily on their employees knowing their product portfolio front-to-back. 
Relying solely on rote memorization of your product portfolio brings a host of problems. For starters, if your sales professionals lack confidence or product knowledge, it can erode trust with prospects and impact the team's ability to generate sales. 
81% of customers say they must trust a brand to buy from them. So, if your salespeople stumble when customers ask for product information, you risk missing out on potential revenue.
Another problem caused by the lack of a product catalog is that there is always the chance for human error—particularly when dealing with complex products or configurations. Combining or quoting products incorrectly can lead to costly mistakes that will upset customers and hurt your company financially.
There are some traditional alternatives to product catalogs, but these approaches also have numerous downsides:
Spreadsheets:

A simple alternative but Excel sheets pose multiple problems. They aren't visual, which isn't a great help when trying to demo virtual products. Also, the business logic can be wrong because many companies fail to keep their spreadsheets up to date. 

Printed Materials:

Not easily distributed to customers or sales personnel. Also, as you can't automate or add materials to your CPQ process, printed materials create unnecessary steps that add to your workload, causing longer sales cycles and more friction in your funnel. 

Static PDFs and Other Documents:

Although digital, these assets can become outdated quite quickly. Also, automation isn't possible, which leaves you with a disconnected tech stack.
Without a clear, well-organized product catalog, it isn't easy to onboard and train new people. It takes time to train newcomers and get them up to speed on your product offerings and configurations. If you rely on legacy systems, it will slow down your team's progress and productivity, negatively impacting your bottom line.
However, with a product catalog driven by a CPQ tool's business logic, you allow customers to access information more readily. You can also increase the speed of your sales pipeline and optimize your internal processes between departments.
The Solution: A Modernized Product Catalog
The value of a product catalog is clear, and traditional make-shift replacements for product catalogs don't cut it. So, let's take a look at the benefits of having a modern product catalog within a CPQ tool:
Improves Quote Accuracy
When discussing quotes on complex products, it is easy for your sales team to make a mistake. One typo or misremembered part ID and your quotes can be inaccurate. Using product catalogs that integrate with other systems helps prevent these crucial errors.
Improves Your Sales Process
Product catalogs are the backbone of the CPQ process. If your team taps into the data insights offered by a CPQ, it can deliver a direct impact on your sales results. If your buying experience is more customized, 80% of your prospects are more likely to do business with you.
Simplifies BoM (Bill of Materials)
Your BoM includes all the parts and assemblies needed for a given product. Smart product catalogs allow people to build complex products virtually and order all the required parts. This interactive process streamlines the traditional task of compiling a bill of materials, saving a lot of time when it comes to creating accurate quotes, issuing pricing, and ultimately delivering finished products. 
Enhances Automation
Typically, the relationship between sales tools within many companies is a layered structure, like this: Product Catalog > CPQ software > ERP. 
However, this segmented structure hinders collaboration and slows down the process. Instead of overwhelming or confusing people with a disconnected tech stack, your team can enjoy speed, clarity, and automation with an integrated product catalog.
Rather than taking part numbers and ordering them separately, imagine how much more productive your team will be if the software does this automatically. Any investment in such a system will boost your productivity, far outweighing the costs.
Creates a Better Customer Experience
Customers don't want to sift through reams of complex products to find what they want. Furthermore, they may not know which products are compatible.
When customers need to take more time and do more thinking, the buying experience suffers, and they're less likely to convert. By thinking of your user experience, you can create a smoother, more enjoyable sales process. 
When you use a product catalog or configuration process that simplifies the customer experience and speeds up the product quote process, it creates better sales results.
Our customer, Dekor Senčila, manufactures and installs blinds. Their online experience for selecting products and getting quotes was complicated and lacked visual aids. When they embraced our CPQ tool and launched a product configurator, they allowed customers to see their blinds in real-time and get faster quotes. As a result, the sales team saw remarkable growth in offers, surging by 380% in 90 days.
How to Get Started With Your Product Catalog
Now you know why having a product catalog is so helpful to your sales process and your business as a whole. It's time to see how you can tap into the benefits of having a product catalog. Here are the most critical elements to consider:
1. Dedicate a catalog owner
While a product catalog can streamline your CPQ process, it needs to be properly set up to do so. Before diving into creating business logic and filling in the catalog, dedicate a catalog owner. They'll be responsible to keep the product always up to date. 
2. Easily add products to your catalog
Add simple products or group them together with business logic. SaleSqueze's user-friendly UI makes it easy to add product details, price, and image.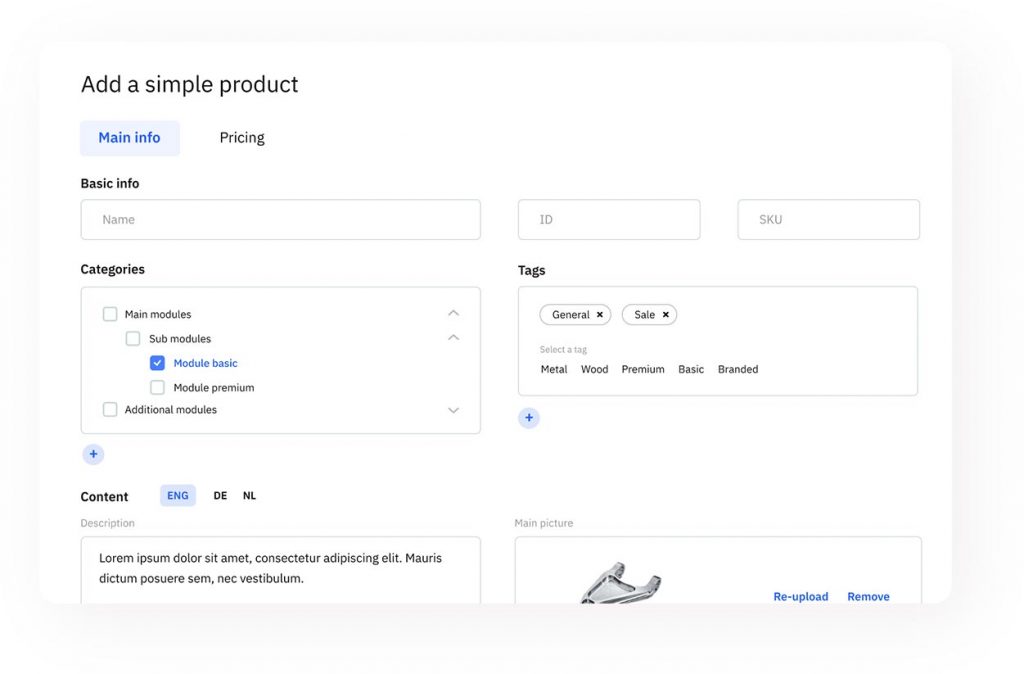 3. Assign business logic to previously added products
Is the product available in any dimension? Does it pair with all add-ons? Adding product logic will clear up any doubts and prevent errors when creating quotes.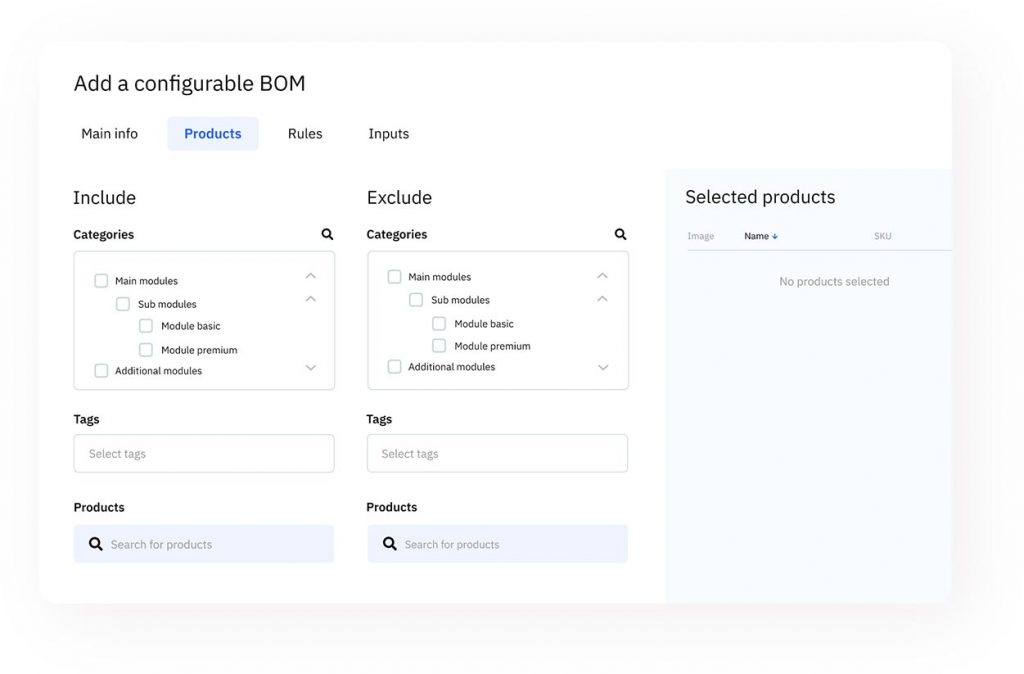 4. Product catalog is now the essential part of your CPQ process
Congrats, the product catalog is now the backbone of your CPQ process. Read on to discover essential aspects when managing your entries.
Essential Aspects
User-Friendly Product Name

: Don't just use a number that's difficult to remember, such as AV2918. Include descriptive names for each part, like Metal Panel.

Description

: Create a brief yet detailed description of the product. Include benefits (such as safety) in addition to mere features (such as reinforced corners). 

Usage Specifications

: Define the ideal conditions for the product, such as temperature and handling guidelines.

Dimensions

: Detail the weight, height, width, and volume of the product.

Constituents

: Mention the core materials that make up the product. For instance, this could be steel, alloy, composite, or PVC.

Certifications

: Certification numbers help reduce confusion and also boost customer confidence that your products are legitimate.

Warranties / Guarantees

: These make customers more confident that they are protected in the case of faulty products.

Pricing

: If you provide pricing during product selection, always make it clearly visible. If you can offer discounts, it will help increase conversions.

Call to Action

: Tell your prospects what you want them to do. If you want them to call your company for a quote, mention this and include the appropriate contact information.
3 Tips to Succeed with a Product Catalog
Here are some pointers to help your sales team get the most value from your product catalog:
1. Be vigilant with updates
Stay on top of product updates. Anytime there is a change of material, shipping times, or pricing, be disciplined in updating your product catalog accordingly. Inaccurate information will only harm your sales process.
2. Make it easy to access
Your sales professionals may not always be in the office. With CPQ systems, you can provide greater access to people on all devices, so reps can deliver the correct information on their smartphone or laptop whenever they are with a prospect.
3. Track performance analytics
As with anything in sales, you should track and measure key metrics to gauge performance. Your sales reps should be able to see which categories get the highest engagement and which aspects need improvement.
Wrap Up
A smart product catalog is a crucial asset for your sales team. Whereas legacy methods like print catalogs or spreadsheets are hard to update, integrate, or automate, a CPQ tool can do it all, which improves your sales team's confidence, and the customer experience.
Through seamless integrations with the rest of your tools, you can leverage the benefits of a well-organized product catalog to empower your sales team and build trust with more prospects. Ultimately, this approach will reduce errors, shorten sales cycles, and increase productivity and revenue for your company.
Book a demo today and see how SaleSqueze can help you use a product catalog to streamline your sales pipeline.